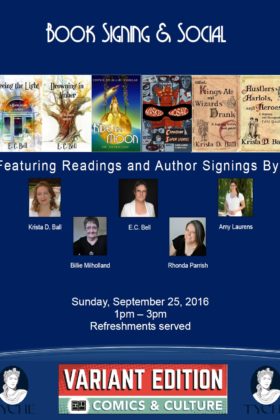 Happy Anniversary to Us! It has been five years since Tyche Books officially came into being. Five years. Wow.
In those five years, we've accomplished a lot. We have published thirty-two books (with four more scheduled for 2016 and a full slate for 2017). We have been nominated for awards. We have won awards. We have worked with both new and established authors, artists, and editors.
Needless to say, we've been busy.
To celebrate our past accomplishments and those still to come, we're going to have some fun events scheduled over the coming twelve months. First of those events will be a Book Social at Variant Edition Comics & Culture in Edmonton on September 25, 2016.
Featured at the Book Social will be Edmonton authors Krista D. Ball, E.C. Bell, Billie Milholland, and Rhonda Parrish AND Australian author Amy Laurens. (For those of you with copies of Ride the Moon, bring it to the store to have it signed by Amy, who wrote the story "Cherry Blossoms".) Good books, good people, and good food–it should be a great afternoon!
Although we're featuring books from our local authors, there will be other books for sale, including our new releases!
In the following weeks we'll have more information about various activities and book events. In the meantime, we'll see you in a few weeks in Edmonton!
Posted by Tyche
on September 13, 2016

Comments are off
Read More